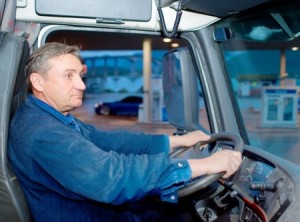 There is some controversy around truck drivers not logging in their hours properly, thereby giving themselves more credit hours than they earned. The more significant argument surrounding truck drivers and service hours is that there are cases of driver fatigue simply because they run out of energy to keep going.  Often, they are overworking themselves for either more money or the company is simply overusing them.
There is a law stating that truck drivers aren't allowed to work more than a set amount of hours per day and week to help the drivers avoid becoming fatigued. The issue with drivers logging hours arose because some people were getting upset by the fact that drivers can be accountable for break hours if they are in the sleeping berth of a moving vehicle. If a driver were to spend more than 2 hours in a moving vehicle while in the sleeping berth, it must be logged in as on duty hours. This law was done to help prevent driver fatigue, and keep truck drivers and other motorists safe.
That said, this has upset some truck drivers because they feel cheated in a sense, as they are then prohibited to work a full shift if they spent more than the allotted two hours in the sleeping berth of a moving vehicle. The driving of a property-carrying CMV is not permitted if more than 8 consecutive hours have passed since the end of the driver's last rest break of at least 30 consecutive minutes.  If the driver has not had at least a 30-minute break by the end of his/her eighth hour, the driver must take a 30-minute break before driving.
For more information on the rules, please do not hesitate to contact Platinum Drivers, the most respected truck driving placement agency in the industry.