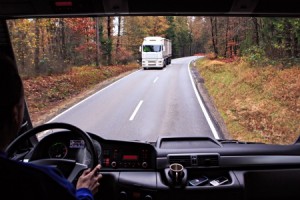 CSA Reports deal with "Compliance, Safety, Accountability," and concern motor carriers and drivers operating in the USA.
Think back to when you were in school. You got graded. A's were good and F's were bad.
CSA Reports are essentially report cards for motor carriers and drivers. Enforcement agencies inspect commercial carriers and drivers to make sure they're operating properly. They're looking for those who violate standards, and they keep track of the details, doling out scores just like a person gets in school.
Some of the specific things that matter include:
1) driver fitness
2) vehicle maintenance
3) unsafe driving and crashes
4) drugs & alcohol use while on the job
Those who ship goods will look at CSA Reports to see how the various carriers do on their scores. CSA scores tell companies which carriers are very serious about safety and doing a fine job making sure it's a priority, and which carriers have issues. Obviously a carrier doesn't want to have bad CSA, showing their drivers don't adhere to the rules, are unsafe, and don't seem to want to improve.
CSA exists to keep the trucking industry on its toes. It finds the high-risk motor carriers and drivers—those who put themselves and others in danger by not complying with rules, for instance, and then intervenes to try to get them to clean their act up.
If you're a truck driver, you can check your CSA at: http://freecsareport.com/
If you're an experienced Class A or Class B commercial truck driver who follows the rules and cares about safety, Platinum Drivers is a CDL driver staffing and placement service connecting drivers and carriers in Texas, Louisiana, and Atlanta, Georgia. Email info@platinumdrivers.com for more information.