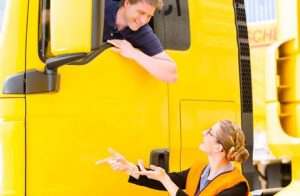 The trucking industry has been facing a driver shortage recently. This shortage may be attributable to several causes, but the end result is that trucking companies need to have qualified drivers in order for the business to operate. Recruiting qualified drivers is one part of the equation, but the second part is retaining those drivers.
Here are some tips on how companies can retain truck drivers.
Develop a formal orientation program
You may spend thousands of dollars recruiting and hiring each new driver. The next step toward retaining that driver is having a formal orientation program in place. The orientation program provides an opportunity to communicate company values and policies, as well as expectations of drivers. Adopting a formal orientation program makes it more likely that a newly hired driver will be able to smoothly integrate into the company.
Foster a workplace where drivers are satisfied
Retaining drivers long-term requires fostering a workplace environment where drivers are satisfied and valued. Drivers who are unhappy with the work environment or who do not feel valued will have no trouble finding another trucking company during a driver shortage. Truck drivers are like any profession, they want a career that is rewarding and meets their needs. This may include periodic reviews to be sure compensation and benefits are competitive, as well as feedback programs so that drivers feel that their opinions and concerns are understood by management. Providing this kind of environment is key to retaining qualified drivers.
Partner with a recruitment and placement agency
Recruiting qualified truck drivers is an expensive and time-consuming process. Consider partnering with a recruitment and placement agency, like Platinum Drivers, to meet your driver staffing needs. At Platinum Drivers, we recruit and screen qualified commercial truck drivers and match them with transportation companies.
Platinum Drivers is a leading commercial driver staffing and placement agency. We serve trucking companies in Florida, Georgia, Louisiana, Oklahoma, and Texas. Contact us to learn how we can help match your company with qualified CDL drivers.