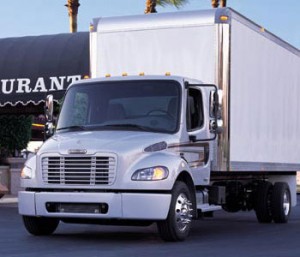 Did you know?
Almost 70% of the freight moved in the U.S. goes on trucks.
Moving 9.2 billion tons of freight each year requires 3 million heavy-duty trucks and more than 3 million drivers.
To move 9.2 billion tons freight takes 37 billion gallons of diesel fuel.
(Source: American Trucking Associations)
Moral of this story: without trucks and truck drivers, the American economy would come to a standstill!
Besides the benefit of helping keep the U.S. economy growing, there are several other benefits of driving a truck. For the sake your time and ours – there are just so many – we're going to outline three of the many benefits of truck driving jobs.
1. Traveling – you get to see the country
How many other jobs allow you to cruise down the open roads of America? None we can think of! If you enjoy driving, traveling, and experiencing new things, driving a truck just might be the ideal job for you. Don't get us wrong: truck driving isn't an easy job, but it sure is a rewarding one.
2. Job demand – there's always a demand for truck drivers
In a press release from the American Trucking Associations on May 12, 2014, their annual almanac of trucking and freight transportation called American Trucking Trends, "confirms the industry's role as the primary mover of freight in the United States." The report also found that trucking jobs employed more than 7 million people in 2013, and that demand continues to grow with the expectations and desires for America's products to be moved safely and efficiently from place to place.
3. Job security – trucks are the main transportation for our necessities
More than the demand to continue to provide the United States with goods safely and efficiently, truck drivers are the source of many of our necessities. If you didn't know, almost every product in the U.S. was transported by a truck driver. If we had truck driver shortages, we run the risk of food shortages, water depletions and running out of cash at ATMs in a matter of days!
As you can see, there is a high demand and job security for truck drivers, and we don't see this changing any time soon, if ever!