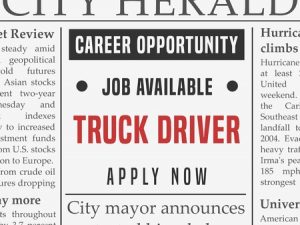 What are some things to know before using a truck driver placement agency?
The Knowledge Base of Recruiters
Consider some basic ideas about recruiters. How well do they know trucking industry terms? Can they speak a trucker's language? Can they talk with all sorts of people from all sorts of backgrounds? Is their business all about numbers or does quality matter to them? These are some questions for "the back of your mind" before dealing with a placement agency. Once you start communicating with an agency, you'll get a feel for how they are, including their attitude, style, and commitment (or lack thereof) to quality hires.
Do Your Homework
Just like a recruiting agency wants to know all about you– the driver– so should you want to know all about them. Therefore, it's time to do your homework.
Research the company before you communicate directly with them. This can involve going online and seeing what people say about them in truck drivers' forums and associations. If they have references, check them. If they say they're licensed, investigate that aspect further. You might want to check their standing with the Better Business Bureau and/or state business boards. Talk to drivers who've used them before and get their take on the overall experience. You can learn a lot from "word-of-mouth," right?
Ask About Expenses
Also, keep in mind that a truck driver recruiting agency isn't doing their work for free. They're in business to make money, so it makes sense to ask them, "What are the costs? How do you get paid?" Maybe they make a commission or get a finder's fee? As a trucker, you'll want to know exactly where money is going, and make sure you're getting your fair share.
How Platinum Drivers Can Help
Platinum Drivers is a leading truck driver placement agency. We've done well with providing FMCSA-qualified Class A and Class B commercial truck drivers to companies in Arizona, Georgia, Louisiana, Oklahoma and Texas. With a commitment to safety, excellent customer service, and building long-term relationships, Platinum Drivers is an effective middleman between drivers and customers. So, if you're looking for a truck driver placement agency to work with, give us a call at 844-800-1421.