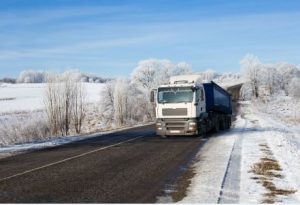 It's the holiday season. For truckers, that means it's a busy time of the year. What are some tips to enjoy the holiday season this year as a truck driver?
How You Can Enjoy the Holidays Despite Your Busy Schedule
First, consider helping out a fellow trucker by working a certain shift or running an unwanted route. For instance, say Joe wants to be home with his wife and kids on a certain night to see little Joey's Christmas recital at church… but he's been scheduled to work. This is where you come in and say, "Hey Joe, want to switch with me so you can go to your kid's thing?" That's a nice thing to do– you feel good, he feels good– you're basically spreading Christmas cheer and that's a positive thing to do.
Next, don't overdo it in the sense that even though you want to be a workhorse and make extra money this time of year, you've got to remember you're human. There's a reason why truckers can't work 24 hours a day, right? Don't give up nap times this time of year. Don't stress yourself out, needlessly. Take a calm-and-cool approach to work year round, even during the busy holiday season– this is good for your overall health. By the way, if you need help with something, ask for it. Don't try and do everything on your own, you stubborn bull. Winter can be a stressful, cold, tough time, and that's exactly when you need to reach out and ask for some help from coworkers and fellow truckers for the good of your mental and physical well-being.
Also, do you want to make life interesting this December? Why not do something out of the ordinary for certain people you see during your travels? For instance, you could pay the toll for someone else, buy a dessert for the waitress at the rest stop you frequent, or offer to show a close friend's kids what the interior of your big rig looks like– complete with having them honk the horn. In life, it really is the "little things that mean a lot." Imagine dressing up as Santa Claus and toolin' down the highway– you'd get a lot of smiles from that!
Finally, holiday season can be lonely. It's at this time of the year when we become reflective, thinking about loved ones who we don't get to see as much– or not at all– anymore. Therefore, when possible, go out of your way to call, text, email, or, best of all, visit with loved ones. Despite being so "connected" on screens, there's nothing quite like real-life interactions. Share presents, cards,  and other good stuff that'll help make it a nice, memorable holiday season.